Renowned Qawwal Ustad Rahat Fateh Ali Khan performed live his greatest hits Monday night here at Leeds Arena to a full-capacity venue to mark the 20th anniversary of Ustad Nusrat Fateh Ali Khan — a famed musician and his uncle.
Rahat Fateh Ali — the nephew of the late, world-renowned singer Ustad Nusrat Fateh Ali — performed non-stop in front of a captivated audience for four hours.
The musician and his band enthralled music-lovers at a venue that he has performed at thrice in the past four years to fully-packed halls. The audience comprised mainly South Asians, who have developed a great fondness for Rahat Fateh Ali over time.
The singer's latest gig attracted approximately 5,000 people, who swayed joyously as the vocalist sang one hit after another, bringing the audience to their feet with each new rendition and powerhouse performance.
Rahat Fateh Ali — who, in a short period of time, has risen to great heights in terms of musical and commercial acclaim by contributing some of the greatest pieces in recent times — has become a household name to millions of people who follow Urdu, Hindi, and Punjabi music. He has also lent his voice to Bollywood on numerous occasions.
With regard to his latest tribute concert, Rahat Fateh Ali expressed gratitude to the audience for coming out to listen to him. Performing in Britain has been a humbling performance, he said, adding that the dedicated following in the country has grown.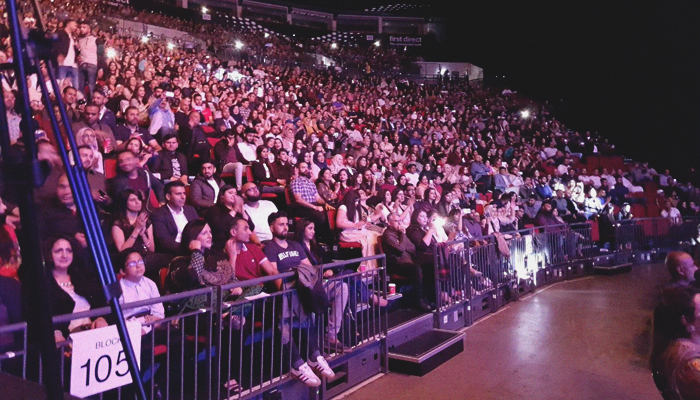 He told fans that his tribute concerts are a way to pay homage to his late uncle, Ustad Nusrat Fateh Ali, who is credited with bringing Qawwali to the international stage.
PME's Salman Ahmed — the promoter of Rahat Fateh Ali's concert tours — told this author in an interview that this was the singer's third "sold-out show" in Leeds.
"The response to the latest tribute concerts in honour of Ustad Nusrat Fateh Ali Khan has been amazing and Ustad Rahat Fateh Ali Khan is showing the world what's great about Sufi music, Pakistan, and sub-continent.
Rahat Fateh Ali has emerged as one of "the biggest ambassadors of Sufi and Qawwali music", which "is reflected in the love showered on him by his fans everywhere he tours", Ahmed explained.
He added, "Rahat Fateh Ali is promoting everything good about Pakistan at the world stage."
The promoter went on to say that a concert Ustad Rahat Fateh Ali Khan at the Wembley Stadium — slated to take place on September 16 — "is already a sold-out event".
Article Source: Geo News
Comments
comments
Powered by Facebook Comments