The Smruti Khand houses files and documents related to Gandhiji.
Until a month ago, a few good minutes spent in Mahatma Gandhi Smruti Khand (memorial) in Old Circuit House, Shahibaug, would be as good as a visit to a sanctum sanctorum. Today, step inside the room and you will have Patanjali ghee, rugs, banners and pamphlets welcoming you!
Smruti Khand, which, 95 years ago, was a court room from where the Father of nation was sentenced to six years in prison on charges of sedition, has been turned into a warehouse of Patanjali Ayurved Ltd, a company founded by Baba Ramdev.
From May 25, of the 28 rooms in the circuit house – the oldest in city – 12 have been given to Patanjali. While it has turned one room, the Smruti Khand, into a store room, the remaining rooms have been occupied by its staff, camping in the city to prepare for the yoga day.
Asked how Patanjali was granted the permission to use the room, Chirag Patel, Shahibaug sub-division deputy executive engineer who is in charge of all circuit houses in Ahmedabad city, said, "We don't know who gave them the permission to use it as a warehouse." Deputy CM Nitin Patel denied any knowledge of Patanjali using Smruti Khand as a store room.
The Smruti Khand houses files and documents related to Gandhiji.
During British rule, the room at circuit house was used as a court room On March 18, 1922, a court sentenced Gandhiji to six years in prison for sedition After India gained independence, the room was turned into Gandhi Smruti Khand The room has Bapu's photographs, paintings of his trial, and files and papers related to him Ahmedabad: Earlier on Saturday, at press conference in city, when the oversight was brought to Baba Ramdev's notice, he categorically denied any negligence on Patanjali's side. "Patanjali has not stored anything at Smruti Khand, Anyone can go and check," he said.
Smruti Khand houses files and documents related to Gandhiji. However, they have been swept to a corner to make space for Patanjali ghee, rugs, banners, pamphlets, mattresses for staff, T-shirts and caps that are to be distributed to yoga day participants, etc. Gandhiji's pictures that adorn the walls are also partially covered by piles of goods.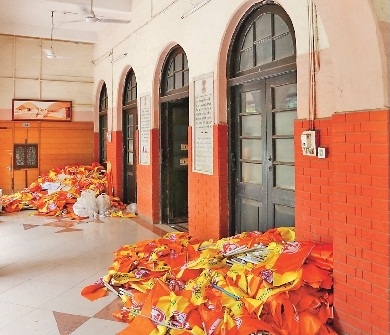 Though 12 rooms have been given out to Patanjali, the circuit house has not taken any deposit from them as yet, which is against the norm, when a deposit is takes when the room is given out.
According to circuit house sources, the bills will be settled after the state government makes a decision on it. Circuit House is usually meant for state government office-bearers, including ministers, government officials and state guests free of cost as the government bears the expenses.
Relatives and acquaintances of these sections can also stay at the circuit house by paying approximately Rs1,300 per day per room.
Comments
comments
Powered by Facebook Comments