RAW has allocated $500 million to sabotage CPEC: Gen Zubair
The path to better relations with India passes through Kashmir, there is no bypass, Chairman Joint Chief of Staff Committee (JCSC) General Zubair Mehmood Hayat said on Tuesday.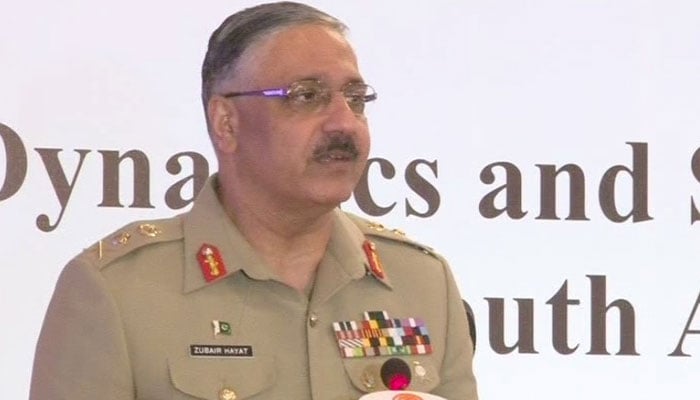 However, he added, India was perpetrating terrorism in Pakistan through Taliban, Baloch separatists and RAW. By doing so, India was playing with fire and the peace of South Asia, the general said further.
General Zubair was addressing a two-day international conference on regional dynamics and strategic concerns in South Asia organised by the Islamabad Policy Research Institute at Serena Hotel.
He also shared with the participants that the Indian intelligence agency, RAW, has allocated $500 million to carry out sabotage activities against the China-Pakistan Economic Corridor.
The CJSCS said political and strategic differences have been causing conflict in South Asia, and India was fostering the issue.
He added India was doing so by, for instance, making claims such as those of the 'surgical strike'.
Moreover, he said, India has become an extremist country from being a secular one, an example of which lied in the atrocities in held-Kashmir and attitude towards Pakistan.
There is one soldier for 20 Kashmiris – 94,000 Kashmiris have been martyred while more than 7,700 have lost their eyesight, he added.
The general said India so far martyred 1,000 Pakistani citizens and 300 soldiers. He said India has violated the ceasefire for more than 1,200 times, thereby, continuing its years-old war against Pakistan.
"These moves of India can result in a major war at any time," General Zubair said.
While speaking about Afghanistan, General Zubair said the country is a gateway to Asia, which is why instability there is perilous for the entire region.
However, he added, factors such as weak governance and a flawed reconciliation process are some of the causes of instability in Afghanistan.
Moreover, he said, havens of terrorists on Afghan soil were also a matter of grave concern. "It is Pakistan that is paying a high price for instability in Afghanistan," he added.
Nevertheless, Pakistan wishes for lasting peace in Afghanistan, the CJCSC said. Therefore, in view of the circumstances, Pakistan will keep minimum nuclear deterrence, he added.
Pakistan wants to hold talks with India: Abdul Basit
Earlier, while giving the opening speech, Islamabad Policy Research Institute chief Abdul Basit said Pakistan is determined to restore peace in Afghanistan, but both the countries should bolster the process.
Basit has also served as Pakistan's high commissioner to India.
However, Basit too believes peace in the region is not possible unless the Kashmir issue is resolved.
He said Pakistan wants to hold talks with India, but that requires the latter country to come to the table.
Until then, he added, India is pushing the region towards instability.
Source: www.geo.tv